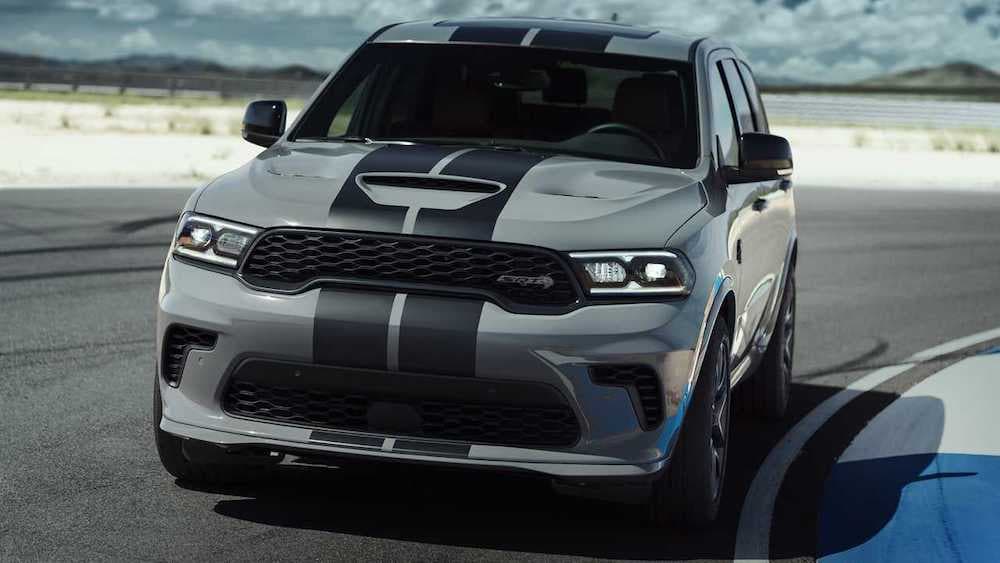 Were you counting down the days to the rumored fall release date of the 2021 Dodge Durango Hellcat? If so, you're not alone. In fact, the entire team at Patterson CDJR Marshall is counting down along with you.
Unfortunately, it looks likely that the date will be pushed into 2021, and no confirmation of a new date has been made. As is the release date, details of the Hellcat V8 are, at this point, still mostly rumors and speculation.
The first hint of a Durango Hellcat came as barely a blip on the screen back in February. That's when eagle-eyed viewers caught a glimpse of what looked like the front quarter of a Durango featuring the Hellcat emblem.
Online boards blew up with chatter about the possibility, but it would be months until the rumor was confirmed. Now that we know it's coming, Dodge fandom is hungry for details—but they remain difficult to come by.
Here's what we know-ish:
What's Under The Hood of The 2021 Dodge Durango Hellcat?
A 707-Horsepower 6.2-Liter V8 Hellcat Engine
This Hellcat V8 engine is pure power. If SUVs were once the territory of soccer moms and family road trip takers, this beast of an engine makes the 2021 Dodge Durango attractive to a whole new demographic.
Durango Hellcat Powertrain
The 2021 Dodge Durango Hellcat will likely feature the same AWD powertrain as the Grand Cherokee Trackhawk.
How Fast is the 2021 Dodge Durango Hellcat?
An SUV that goes from 0 to 60 in 3.5 seconds and demolishes the quarter-mile in 11.6? Dodge thought it was a great idea—and so do we!
Will The 2021 Dodge Durango Trim Have A Special Edition Trim?
Buy at launch, and you might be able to get behind the wheel of a special-edition trim package that features a serialized badge on the dashboard—as if the Hellcat V8 wasn't already special enough.
When Will The Dodge Durango Hellcat Be Released?

One rumor is that the Hellcat V8 Durango would make its debut at the New York International Auto Show which takes place in early April of 2021. Other reports say the production has been pushed, and that the release date may end up being later in the year.
So will it be spring, fall, or winter? Only insiders know for sure, but a little mystery only adds to the excitement.
Want to be the first to know when you can see the 2021 Dodge Durango Hellcat? Keep in touch with Patterson CDJR Marshall, and we'll let you know as soon as we're able. Do you need a car in the meantime? Stop by today to see our large in-stock inventory and get a great deal and some of the best service in the business!