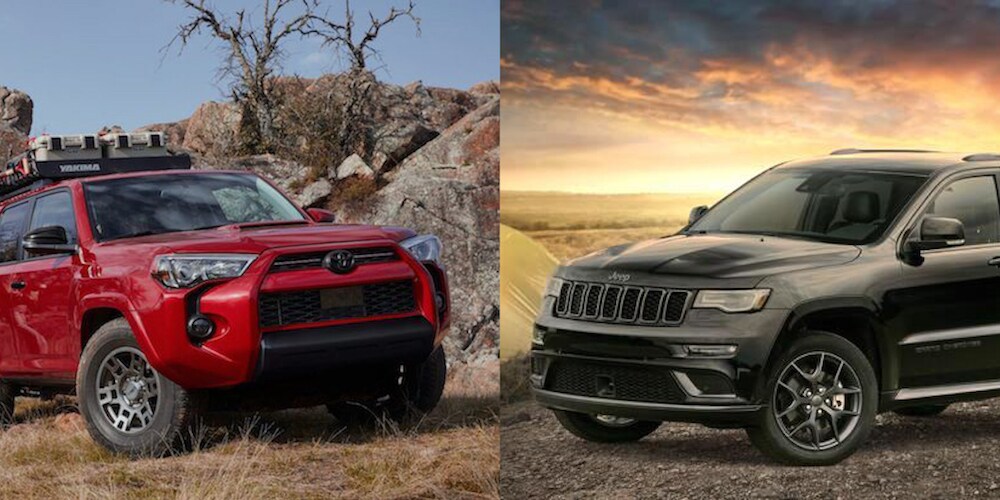 The Jeep Grand Cherokee and the Toyota 4Runner have a lot in common. Both of these mid-size SUVs are famous for their stylish exteriors, outdoorsy personalities, and potential for off-road performance. If you're trying to narrow down your choices in the mid-size SUV market, we can help. Patterson CDJR Marshall took a closer look at the 2020 Jeep Grand Cherokee vs the 2020 Toyota 4Runner to help buyers choose the best mid-size SUV for their specific needs. See why the Jeep Grand Cherokee and Toyota 4Runner have long been among the category's top picks:
Is The 4Runner More Expensive Than A Jeep Grand Cherokee?
The Jeep Grand Cherokee is actually more affordable than the Toyota 4Runner, with a starting MSRP that's about $4000 less than the Toyota 4Runner. Of course, the exact price will depend on the configuration you choose, but the Grand Cherokee has a lower starting price.
Jeep Grand Cherokee: $32,150?

Toyota 4Runner: $36,120
Engine Specs: Does Grand Cherokee Have More Power Than 4Runner?
The Toyota 4Runner has only one engine option, a V6 that pushes 270 horsepower and 278 lb-ft of torque.
If you are looking for more power options, the Grand Cherokee features several engine choices:
3.6-liter V6: 295 hp, 260 lb-ft of torque

5.7-liter V8: 360 hp, 390 lb-ft of torque

6.4-liter V8: 475 hp, 470 lb-ft of torque

6.2-liter supercharged V8: 707 hp, 645 lb-ft of torque
If you want the power of a V8, you'll have no such option with the 4Runner. If you're more interested in better gas mileage, the Grand Cherokee comes out on top again with their 3.6 liter V6 that provides 19 mpg in the city and 26 mpg on the highway. This is a step up from the 17 mpg city and 21 mpg highway you'll get from the 4Runner.
Innovative Technology: Grand Cherokee Vs. 4Runner
In 2020, the 4Runner got a much needed tech update that included the addition of an 8-inch infotainment system, Apple CarPlay, Android Auto, and Amazon Alexa.
Driver Assistance technology was also improved with the addition of forward collision warning, pedestrian detection, automatic emergency braking, and lane departure warning.
While these are significant improvements over the 2019 Toyota 4Runner, the Grand Cherokee has consistently delivered impressive safety and entertainment technology—and continues to on the 2020 model.
More safety and driver assistance features are available on every trim level of the Grand Cherokee. These include:
Blind Spot Monitoring

Rear Cross-Traffic Alert

Forward Collision Warning

Automatic Emergency Braking

Active Parallel and Perpendicular Parking

Rain-Sensing Wipers

Lane Departure Warning
When it comes to entertainment, you'll have your choice of a standard 7-inch screen with two USB ports, or you can upgrade to a larger screen that includes two additional ports and navigation.
Which 4x4 SUV Is Better Off The Road?
The Grand Cherokee and the 4Runner both come with standard rear wheel drive and offer the option to upgrade to AWD. The Grand Cherokee and the 4Runner both excel when it comes to outdoor performance. The Grand Cherokee is more than capable of negotiating tough off-road trails–it's a Jeep, after all. It's 7200-pound towing capacity and range of available 4WD systems make it a perfect choice for drivers facing gravel, snow, and other off-road conditions.

The 2020 Toyota 4Runner is also a good choice for outdoor performance, although it's 5000-pound towing capacity is less than the Grand Cherokee. It's 4WD system and high ground clearance make it a solid option for rocky trails.

Related: Compare 4x4 Features Of Jeep Models
The 2020 Jeep Grand Cherokee Outperforms Toyota 4Runner
When you compare the 2020 Jeep Grand Cherokee vs Toyota 4Runner, you'll find that both offer attractive features. Taking everything into consideration, however, the Cherokee earns the spot of best mid-size SUV—and the sales numbers show that buyers agree.
In 2019, Toyota sold 131,864 4Runners while Jeep sold 242,969 Grand Cherokees. The numbers for 2020 look like they'll end up with about the same disparity as Jeep has already sold 96,409 Grand Cherokees compared to Toyota's sale of just 57,428 4Runners.
Patterson CDJR Marshall maintains a large inventory of new and quality pre-owned SUVs, so stop by today to see our selection and to get a great deal on the vehicle you need.