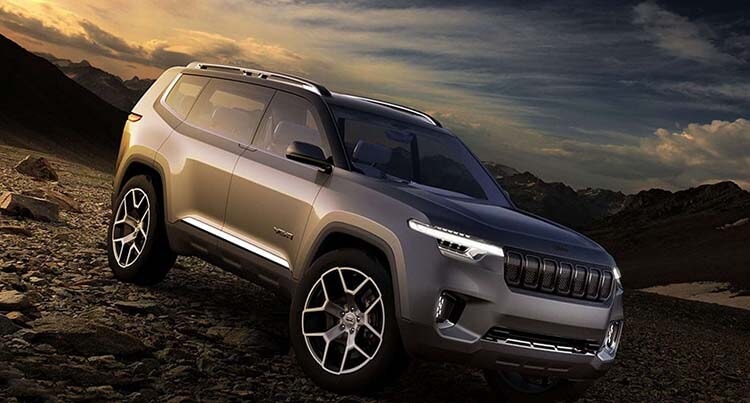 In 2022, Jeep may seek to reclaim part of the market from which it's been absent for 30 years: the premium, three-row SUV market. The potential re-introduction of the Jeep Wagoneer has many Jeep fans chomping at the bit for details—but news of the specifics is still scarce.
Even though test models have been spotted out and about, these development mules are often rigged to hide details from competitors and the press. That means not much weight can be given to the body styles seen on these prototypes.
While much remains a mystery about the new Jeep Wagoneer, there are a few things we know:
2022 Jeep Wagoneer To Feature Two Wheel Base Models
Buyers will have a choice of a short and long wheel base version. The short wheel base model will be the Jeep Wagoneer and the long wheel base model will be the Grand Wagoneer. Both will be roomy, but the Grand Wagoneer will offer additional space for seating and cargo.
Jeep Wagoneer Will Have A Hybrid Model
Do you want a premium SUV that is also environmentally friendly? The new Jeep Wagoneer delivers that option. It's likely that a hybrid option will be available for both the 3.6 liter V6 and the 5.7 liter V8, so you can enjoy the performance you want while lowering your carbon footprint.
Will The Jeep Wagoneer Be Made In The USA?
If you want to support American-made products then you'll be happy to know the new Jeep Wagoneer will be manufactured at FCA's Warren truck assembly plant.
For all we do know, there is much more that is all speculation:
· Will there be a Jeep Wagoneer Hellcat version?
· What colors will be available on the Jeep Wagoneer?
· What trim packages will be offered?
· Will the body style be similar to the Jeep Grand Commander which is only available in China?
· What about details of the onboard tech?
While it's fun to consider the possible answers to these and many other questions, for concrete answers we'll just have to wait and see.
Patterson CDJR Marshall looks forward to offering this much-anticipated vehicle to our customers. Can't wait until 2022 to get behind the wheel of a new or quality used Jeep? Stop by today to see our large selection.
As 2022 draws closer, check in with us often for updates, and we'll let our buyers know as soon as we have an arrival date for the first new Jeep Wagoneers!