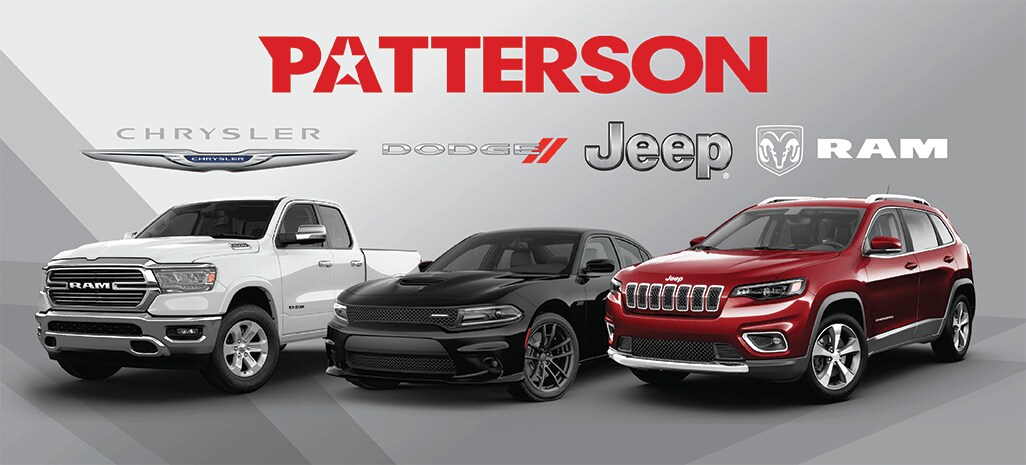 Are you in the market for a car? The process can seem overwhelming, and there are a lot of decisions to be made, including whether to buy new or used, whether or not to trade in your current vehicle, and whether to lease or buy. Before you head out to the dealerships, take a few minutes to browse Patterson Marshall's car buying FAQs. 
Can You Get a Lower Payment on a New Car or a Used Car?
If a lower payment is your goal, a used car may be a better option than a new car. You'll not only be able to find a used car at a lower price than new, but you'll also save on insurance and property tax. That being said, don't give up entirely on the idea of a new car. You might be surprised at the low payments on new cars that may be available at our Marshall, TX car dealership. 
Can You Buy a Car Online?
You can buy a car online, but you lose the personal service you'll enjoy by working with a knowledgeable salesperson. Explore Patterson CDJR Marshall's inventory online and then visit the lot for a test drive, and to ask any questions you may have. 
Which is the Best Full-Size Truck to Buy in 2020?
Looking for the best full-size truck to start the new decade? Look no further than MotorTrend's Truck of the Year for 2019 and 2020. Ram Trucks have taken home the latest titles, with the Ram 1500 ranked No. 1 in 2019 and Ram Heavy Duty taking home the top prize in 2020 thanks in part to their advanced designs, high-strength steel platforms, and numerous interior bells and whistles that make these trucks' comfort as impressive as their performance. Patterson CDJR Marshall has a large inventory of Ram trucks on the lot, so Shreveport and Longview buyers can take a test drive today in nearby Marshall, TX. 
When is the Best Time of Year to Buy a New Car?
Many say the best time of year to buy a new car is the fourth quarter (October through December) as that is when dealerships are working to meet their year-end sales goals-but that doesn't mean you need to wait to find a great deal. Our Marshall, TX dealership has special offers throughout the year, so if you need a car, you don't have to wait. 
Should You Buy a New Vehicle or Keep Your Current One?
When deciding whether or not you should buy a new vehicle or keep your current one, consider the age and condition of your current vehicle and whether the car you have now is meeting your needs. If you find that your car is unreliable or you're constantly making repairs, it's time for a new car. If your current car is in decent shape, that puts you in a position to plan a bit more for your new car by beefing up your down payment before making the purchase. 
What Are Other Maintenance Costs of Owning a Car?
When planning your budget to include a new car, you'll have to consider the other maintenance costs of owning a car. These include insurance and routine maintenance, such as oil changes, new tires, transmission service, etc. 
Is Car Insurance Cheaper on a New Car or a Used Car?
Whether your car insurance will be cheaper for a used car or a new car depends on the age of the car if it's used and the type of vehicle you're buying. For example, the insurance for a used Porsche will be more than the insurance of a new Chrysler 300. Once you select which type of car you're interested in, you can call your insurance company for an accurate quote before making the purchase. 
Which Cars Last the Longest?
The cars that last the longest are the ones that are properly maintained. No matter what kind of car you buy, you can extend its life and reduce the need for repairs by ensuring all maintenance is performed on time. 
Where Can You Find the Best Deals on New Cars?
If you want to find the best deals on new cars, you'll have to do some research before heading to the dealership. Learn what others are paying in your area for the type of car you want and then find a dealership near you that is advertising special offers. East Texas and Shreveport-area car buyers will always find great deals at Patterson Marshall. 
Is it Better to Buy or Lease a New Car?
Deciding whether to buy or lease a new car comes down to this question: Do you want a new car every two or three years? If you do, leasing may be the best option-but it's rarely the better financial decision. At the end of the lease term, you'll either have to buy out the lease or walk away with nothing to show for your payments. Still, if the most important thing is always being in a new car, a lease may work for you.  
Is it Better to trade in my old car to a Dealership or Sell it Privately?
There are many advantages to trading in your car to the dealership you're buying from. It's faster and more convenient, because you're dealing with one party instead of two, but you can also save money on sales tax by lowering the cost of the vehicle you're buying! 
Does Patterson CDJR Marshall Offer a Free Lifetime Warranty?
Yes, Patterson CDJR Marshall offers a Free Lifetime Warranty on every new vehicle and most used vehicles, too. You can find details on our Free Lifetime Warranty page.
Which Vehicles Are Covered by the Free Lifetime Warranty?
The Patterson Free Lifetime Warranty covers new vehicles and every used vehicle 10 years or newer with less than 125,000 miles at the time of purchase. You can find details on our Free Lifetime Warranty page.
Which Cars Have the Best Gas Mileage
Typically small cars offer more miles per gallon than bigger vehicles, but many larger new vehicles are surprisingly fuel efficient! You can find fuel economy information for all of our vehicles when you browse our inventory online.
Is It Cheaper To Buy Cars Outside of Big Cities?
Drivers in big cities can find some of the best deals on a new or used car at dealerships in smaller towns like Marshall, TX. Customers from Shreveport/Bossier City make the drive to Patterson CDJR Marshall to find the prices, selection, and customer service they expect when purchasing a vehicle.
Can Patterson CDJR Marshall Deliver My Vehicle?
Yes, Patterson CDJR Marshall offers delivery. You can shop for a new vehicle online and over the phone and have your vehicle delivered to your home. Call us for details!
Are Jeeps Safe?
Yes, Jeeps are very safe! Jeeps are famous for being rugged and reliable, but they also score very highly in safety as well.
How Much Does A Jeep Wrangler Cost?
The 2020 Jeep Wrangler has a starting MSRP from $28,295, but you can find some great deals on new and pre-owned Jeep Wranglers at Patterson CDJR in Marshall, TX. Contact us today to see how affordable a Jeep Wrangler can be.
Which Car Dealership has the Lowest Prices?
Finding the dealership near you with the lowest prices is a matter of research. For Marshall, TX car buyers, the choice is clear. Patterson CDJR Marshall consistently offers lower prices than our competitors in Longview, Shreveport, and surrounding areas. What does that mean for you? It means you'll always get a great deal when you choose Patterson of Marshall! 
Stop by to see our expansive inventory and to learn about our FREE Lifetime Warranty and the other perks of buying from our highly rated Marshall, TX dealership.